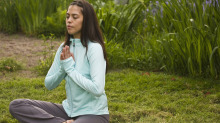 Are you more aware of the "here and now?" Do you feel your developing enhanced learning skills, and your memory is improving?
If so perhaps you have participated in one of our MBSR Programs. Recent studies of MBSR participants are showing these benefits along with an increased ability to regulate emotions.
In the article from the Toronto-based The Globe and Mail, "Meditation alters your grey matter, studies show," Adrianna Barton reports on these finding, and more.
This article includes insights from Dr. Zindel Segal, professor of psychiatry at the University of Toronto, who developed Mindfulness-Based Cognitive Therapy (MBCT) to treat depression, along with resources for MBSR programs in cities across Canada.