mPEAK is an intensive course in mindfulness training for those who seek to draw upon this proven practice to achieve their goals, both personal and professional, as well as attain new levels of performance and success. This cutting-edge 3-day intensive or 8-week program is built around the latest brain research related to peak performance, resilience, focus, and "flow". The mPEAK program enhances the human capacity of mindfulness through established and empirically supported practices and exercises, tailored to fit the needs and desires of the team, organization or individual. As with physical training, this mental-emotional training program is based upon the understanding that optimal outcomes occur most often when participants continue to engage in the practices and exercises on a daily basis as a part of their training regimen. Mindfulness is effective precisely because it is a way of being and relating to all aspects of life, rather than a specific technique or tool for a particular goal. The foundation of this program is drawn from the highly respected and empirically-supported Mindfulness-Based Stress Reduction (MBSR) program. Additionally, the program incorporates specific practices and exercises formulated to correspond to recent neuroscientific findings, competitive advances, and related research regarding optimal performance.
The mPEAK program was developed in conjunction with the US National BMX Cycling Team in 2014, as a collaboration between the coaches of the team, UC San Diego neuroscientists Drs. Lori Haase and Martin Paulus, and the UC San Diego Center for Mindfulness Founding Director Dr. Steven Hickman and former Managing Director Allan Goldstein.
Whether you are an athlete, business professional, or simply want to participate in a program that brings together the latest neuroscience and mindfulness training to enable you to be at your best please join us by registering for the mPEAK program. Help spread the word by letting your colleagues and friends in San Diego know about our mPEAK program. 
The 3-day mPEAK Intensive workshops and 8-week mPEAK programs are offered at our Center. Contact us at mindfulness@health.ucsd.edu if you have questions or requests.
UC SAN DIEGO HEALTH EMPLOYEE DISCOUNT
We have partnered with the UC San Diego Health Employee Wellness Program. UCSD Health Employees are eligible for a yearly subsidy of up to $210 for any of our programs. Learn more here!
Request Information
If you are interested in receiving more information about how you might arrange for our trainers to offer the mPEAK program in your organization or geographical area in an intensive format or to explore options for professional training so that you or others can teach the program, please contact us at mindfulness@ucsd.edu or follow the link below for more information.
mPEAK Coaching
Are you interested in our weekly private mPEAK program phone sessions or in continuing to strengthen your practices after completing the mPEAK program? Please contact Pete Kirchmer at pkirchmer@ucsd.edu or follow the link below for more information.
What Past Participants Have Said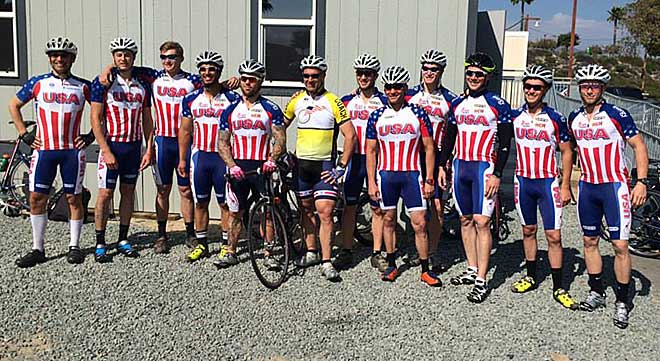 Below are some of the comments offered by the BMX team members and coaches about the mPEAK program:
"The other day I went on a mountain bike ride in the pouring rain and I was trying to be as mindful as possible and what I found out was it helped me out a lot. I was acknowledging on the way the rain was hitting my skin, the way I was breathing, how cold it was outside, and how bad my legs hurt. It was weird after realizing all of those things happening it all kind of subsided and I was able to just focus on every pedal stroke and every climb more effectively, and I didn't think about the next hill climb I just focused on what was in front of me."– Jordan
"One thing I have felt on the days where I am unbeatable is a highness awareness of things. As in I'm even more in touch and in tune with my body than I normally am. When that happens I don't worry about anything else other than my body, and that leads to success."– Connor
"A positive of the course for me was simply being more present. I am able to not worry so much and take time to make decisions. In racing there is no room for hesitation or thinking, and being more present has helped me make better moves and decisions on the track. Not only has it helped me on the track but it has helped me be more aware of everything around me and I find myself constantly coming back to the present and am aware when my mind is throughout the day."– Nick
"Another thing from the course that has stuck with me is to not attach emotion to a situation. When you have a bad lap, a bad jump or finish bad in a race it is easy to get down on yourself and often times takes away from performing better again because you are thinking about it. I have learned not to go up to the gate worrying about the last lap and simply focusing on what I need to do to have the best lap I possibly can."– Nick