It's summer time. A time for those of us who work on college campuses to take a deep breath and reflect for a moment on the school year just past, and make plans for the year a head.For me, this means thinking about our Koru Mindfulness program, looking at the number of students we served last year at Duke and contemplating how we can continue to expand our programming to meet the growing needs of students. Not surprisingly, this activity produces a surge of gratitude in me. Gratitude for the amazing students I've gotten to know through our mindfulness classes and gratitude for their willingness to commit to our short course on mindfulness. Koru classes are only four weeks long and we require students to meditate for only 10 minutes a day while they are participating in the course. But even this relatively short intensive in mindfulness requires them to set aside any skepticism they might have, make time in their already too-busy schedules, and do something entirely unfamiliar to them.
"Twenty-somethings are in the best possible life stage for learning mindfulness."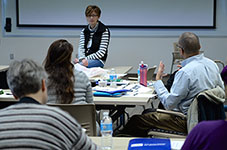 To my delight and relief, most of them do it with great good humor and almost all of them end up teaching me something along the way. For example, this year one student taught me that dynamic breathing (or chicken breath as our students usually call it) can be done to good effect while waiting in the wings to go on stage, so long as you remember to turn off your microphone. OMG, that story had us all laughing until we cried.
Most of the students we teach report some significant personal transformation as they grapple with the challenge of developing a first time mindfulness practice. It continues to amaze me how flexible their young minds are and how capable of change.
It also continues to reinforce my belief that twenty-somethings are in the best possible life stage for learning mindfulness. They are old enough to take the practice seriously, but young enough for the practice to impact some of their most significant life choices.
It was heartening this year to hear one of our Koru students talk about the way she had begun to reevaluate some of her relationships since she'd started her mindfulness practice. She was noticing that when she was with her friends, they seemed to only complain and criticize. She hadn't really tuned in to this before she began practicing mindfulness, but she was quickly seeing the negative consequences of this in her own life.
She was beginning to think about what it would mean to create different kinds of connections, connections that mirrored her more natural optimism and generosity. You could hear her finding her way into a different way of relating, all because she was learning to pay attention to causes and consequences as her life unfolded.
And it is not just the Koru students, but also the Koru teachers I am grateful for this summer. I am just home from Cambridge, where the Center for Wellness at Harvard University Health Services hosted us as we trained 35 men and women from around the country and the world to teach Koru Mindfulness at their agencies and organizations. I feel tremendous hope for the future as I see this small army of committed individuals preparing to introduce mindfulness to the young adults they serve.
The wisdom and compassion they carry with them to their work with young adults in all walks of life, truly feels like it will change the world. The seeds of mindfulness they sow will influence the lives of our next generation of scientists, artists, healers and leaders. It just doesn't get any better than that.
---
About the Author