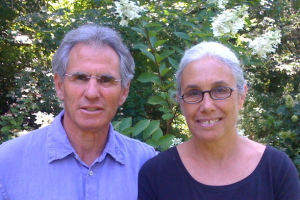 Conference organizers announced today that scientist, author and noted mindfulness teacher Jon Kabat-Zinn will be offering a public lecture in San Diego on Friday, Feb. 1, 2013 as part of the 2nd Annual Bridging the Hearts and Minds of Youth: Mindfulness in Clinical Practice, Education and Research conference. Jon and his wife Myla, co-authors of Everyday Blessings: The Inner Work of Mindful Parenting will also present a 3-hour workshop on Mindful Parenting on Saturday afternoon, Feb. 2 as part of the conference.
"We are so excited to have Jon and Myla with us for the conference to maintain the tremendous momentum we built with last year's inaugural event," said Steven Hickman, Director of the UCSD Center for Mindfulness and conference organizer. "And the best news is that this is only the first of several exciting developments in the works for 2013."
Hickman went on to note that the conference will start a half-day earlier than in 2012, largely to accommodate two research symposia, a poster session and optional pre-conference workshop. The focus will remain on the "three pillars" of clinical practice, education and research, and keynote speakers and sessions will be devoted to each of these areas of interest. "In order to assure a varied and interesting agenda for 2013, the Program Committee has opted to issue a call for submissions to fill much of the conference schedule," Hickman reported. "We invited the people we knew doing the work we were most familiar with last year, and the result was wonderful. But this year we are casting the net much wider in hopes of involving people and programs from a much broader background and expertise." Deadline for conference submissions is August 1, 2012, and the final conference agenda will be announced by September 1.
A number of other enhancements to the program are already underway, including a number of mechanisms by which people can be kept abreast of additions to the agenda, the latest work by conference presenters, and other activities planned to coincide with the conference. A separate "Bridging the Hearts and Minds of Youth" blog has been launched, as has a conference Facebook page as well. Those interested in following the unfolding of this groundbreaking conference are urged to subscribe to the blog and/or "Like" the Facebook page to keep in touch and be notified when registration opens.