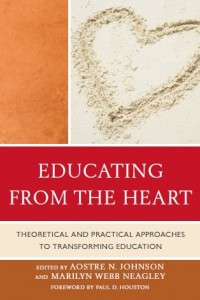 by Marilyn Webb Neagley
My role as director of the Talk About Wellness initiative since 2004 had focused on  inspiring contemplative and inner life programs in public schools.   This year the new goal has been to bring the message of our book, Educating from the Heart, and the lessons of mindfulness-based meditation to wider audiences.
While still working in partnership with the South Burlington Wellness and Resilience Program and other school districts we have been offering workshops, lectures and in-service instruction to such organizations as:
The Mindfulness Center Conference in Norwood, MA; Vermont Association for the Education of Young Children; The Vermont Association of School Counselors; Champlain College; The Woodruff Institute Institute and soon Middlebury College, Dickinson College and the University of California San Diego (UCSD) Bridging the Hearts and Minds of Youth Conference.  My co-editor, Aostre N. Johnson received a Fullbright Fellowship this year and will be extending the message of the book to schools in Ireland.
Whenever possible, I bring another presenter, usually from the South Burlington program, who has been trained to use mindfulness practices for various grade levels in public school settings.
Talk About Wellness has funded instruction from Linda Lantieri, Daniel Rechtschaffen, Patricia Broderick and has connected to the work of Jon Kabat-Zinn and Parker Palmer through retreats, lectures and/or workshops.
The goal of Talk About Wellness has been to bring an "inner life" dimension to education through contemplative practices such as mindfulness but still include other elements such as time in nature, reflective writing, art, music, friendship, play, gratitude, and kindness.
Mindfulness-based Education in K-12 Public Schools, "Educating from the Heart" – Marilyn Webb Neagley, Ferris Buck Urbanowski and Sheri Rand
Hear and learn about the outcomes of the district-wide Wellness and Resilience Program held in South Burlington, VT. through attending this conference breakout session. In its third year, 160 educators have participated in the training and implementation. The program has ongoing support in mindfulness skills, has compiled research data, and has developed a "training of trainers" program to
enable greater outreach. Anyone who is interested in bringing mindfulness-based education to public schools would be interested in this session.