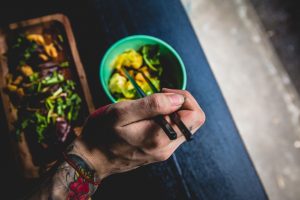 One of the simplest ways to get more enjoyment out of eating while eating more appropriate amounts of food, is to deliberately slow down. Our digestive system sends "satiety" signals to our brain when we've had enough to eat. These signals take about 20 minutes after we begin eating to be activated.
Americans are speedy eaters. Beginning in the elementary school lunch room, we consume our meals in about ten minutes. This means our body doesn't have a chance to give us "feedback" about how much food is the right amount. We can easily eat too much food too quickly. Because there isn't time to release the satiety hormones, we also miss pleasant sensation of satisfaction after our meal.
There are some simple ways to slow your eating down. Try taking a small first portion and deliberately eating it slowly, with full attention to the flavor and texture. Avoid "layering" that is, don't put additional bites of food in on top of previous ones. Try putting down the fork or spoon between bites, and don't pick it back up until the food in your mouth is savored and swallowed. Check-in with the sensations in your stomach a few times during the meal to see how full it is feeling.
Ordinarily our food seems to lose flavor after the first bite. When you slow down, however, pausing between bites, you will discover that each bite retains that "first bite" flavor. Your body also has a chance to register a sense of satisfaction with just the right amount of food.
---
About the Author