Little Flower Yoga is a New York based organization dedicated to making the tools of yoga and mindfulness available to all children and teens. Our classes are rooted in youth development principles and address children's holistic wellness needs in a joy filled environment. LFY provides tools that help all children come to school ready to learn, and give parents and teachers strategies and support to reinforce these tools.
As an organization with 10 years of experience successfully implementing programs for over 2000 children a week in schools and community centers through the School Yoga Project, LFY is deeply immersed in direct service work with students in a wide variety of circumstance. We offer a well respected Teacher Certification program, along with continuing education courses for allied professionals including counselors, social workers, classroom teachers, psychologists, and occupational therapists. Programming is based on the work described in founder Jennifer Cohen Harper's book, Little Flower Yoga for Kids, which was endorsed by leaders in the field including Dan Siegel, Sharon Salzberg, Amy Saltzman, Congressman Tim Ryan, and many others.
Training
Experience one of the most professional and comprehensive children's yoga teacher training programs available, and learn to teach a holistic class that uses all aspects of yoga practice to meet children's physical, emotional, and social needs, from pre-school through high school. Classes incorporate yoga and mindfulness activities that help children and youth connect to themselves and their community; access the power of their breath; develop focus and concentration; find strength, balance, and confidence through physical movement; recognize and regulate emotions; and learn to nurture themselves through relaxation.
Explore the challenges of teaching in school environments, studios, and community spaces. Gain practical information about how to set up new classes, navigate relationships with schools, manage challenging behavior, serve the needs of diverse populations, and much more. You will leave this training with a deeper understanding of child development, the capacity and confidence to create lesson plans that meet  children's needs, and the knowledge to teach in a safe, engaging, and compassionate way.
This week long immersion combines all three levels of the Little Flower Yoga certification program for a deeply connected and empowering experience, rich with opportunities for personal practice.
Level 1: Foundations of Children's Yoga: Creating Safe and Engaging Experiences
Level 2: Teaching the Whole Child: Creativity, Compassion & Mindfulness
Level 3: Advancing Your Teaching & Expanding Your Reach
Completion of this training, plus an online mentorship program and required reading and writing, qualifies you for Yoga Alliance registered children's yoga teacher certification (RCYT).
Objectives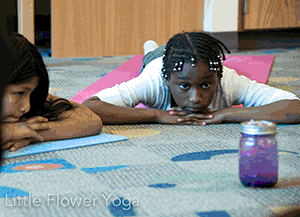 Following this workshop, participants will be able to:
Understand the relationship between the brain, nervous system, and body, and how yoga and mindfulness can support effective integration and function.
Recognize situations in which yoga and mindfulness practices will be helpful, and understand how to implement them.
Implement yoga and mindfulness practices from a trauma informed perspective, in an engaging, safe, and effective manner.
Maximize children's capacity for focusing attention in a a way that is strength based and supportive of their individual needs.
Help children come into better emotional balance, reduce impulsive behavior, and support their capacity to make good choices.
Learn a variety of implementation strategies to share yoga and mindfulness across ages groups, in diverse circumstances and settings.
Develop the capacity to create curriculum aligned with student needs.
Identify how to increase your own resilience and effectiveness with mindfulness based self-care.
Certification Program Benefits
Learn a clear, structured framework, based on our five element methodology, that will allow you to teach an integrated experience of yoga and mindfulness in any setting.
Learn from an organization with 10 years of experience successfully implementing programs for over 2000 students a week, where all trainers remain immersed in direct service.
Explore effective ways to partner with schools and sites in order to understand and meet the needs of students, teachers and administrators.
Opportunities for collaboration with Little Flower Yoga in schools nationwide.
Yoga Alliance RCYT program, offering a 95 hour certification, which includes an online or live mentorship opportunity.
Invitation to the LFY Teacher Membership Program, which offers ongoing support and professional development as you build your career.
Target Audience
Anyone who would like to offer yoga and mindfulness in their work with children ages 3-18. The following professionals may find it particularly relevant:
Counselors, Social Workers and other clinicians including PSYs, MFTs, PT's, OT's, SLP's
Classroom teachers and para-professionals
Professionals who work with children in health and wellness settings (e.g. nurses, pediatricians, physical therapists, coaches)
Yoga Teachers and Therapists
Parents
Participant Guidelines
We welcome all participants who are interested in sharing the life skills of yoga and mindfulness with children. You do not have to be a yoga instructor, or advanced practitioner, although some basic yoga experience is recommended. If you would like to discuss whether this training is appropriate for your experience and needs, please be in touch any time by emailing info@littlefloweryoga.com.
Continuing Education Credits
Nurses: UC San Diego Center for Mindfulness is approved by the California Board of Registered Nursing, Provider Number CEP16351, for 58.5 contact hours.
Psychologists: This program is sponsored by UC San Diego Center for Mindfulness. The UC San Diego Center for Mindfulness is approved by the American Psychological Association to sponsor continuing education for psychologists. The UC San Diego Center for Mindfulness maintains responsibility for this program and its content. This course offers 48.75 hours of credit.
California licensed MFTs, LPCCs, LEPs, LCSWs: This activity is an approved continuing education program by the American Psychological Association. 48.75 contact hours may be applied to your license renewal through the California Board of Behavioral Sciences. For those licensed outside California, please check with your local licensing board to determine if APA accreditation meets their requirements.
Cultural and Linguistic Competency Statement
This activity is in compliance with California Assembly Bill 1195 which requires continuing medical education activities with patient care components to include curriculum in the subjects of cultural and linguistic competency. Cultural competency is defined as a set of integrated attitudes, knowledge, and skills that enables health care professionals or organizations to care effectively for patients from diverse cultures, groups, and communities. Linguistic competency is defined as the ability of a physician or surgeon to provide patients who do not speak English or who have limited ability to speak English, direct communication in the patient's primary language. Cultural and linguistic competency was incorporated into the planning of this activity. Additional resources can be found on the UC San Diego CME website.
Disclosure
It is the policy of the University of California, San Diego School of Medicine to ensure balance, independence, objectivity and scientific rigor. All persons involved in the selection, development and presentation of content are required to disclose any real or apparent conflicts of interest. All conflicts of interest will be resolved prior to an educational activity being delivered to learners through one of the following mechanisms: 1) altering the financial relationship with the commercial interest, 2) altering the individual's control over CME content about the products or services of the commercial interest, and/or 3) validating the activity content through independent peer review. All persons are also required to disclose any discussions of off label/unapproved uses of drugs or devices. Persons who refuse or fail to disclose will be disqualified from participating in the CME activity.
Tentative Schedule
Sunday
Registration: 1:00–5:00 pm
Dinner: 5:30–6:30 pm
First Session: 6:45–10:00 pm
Sunday
Session Ends: 1:00 pm
Required Reading
All books are available on our Amazon Bookshelf.
Little Flower Yoga For Kids: A Yoga and Mindfulness Program to Help Your Child Improve Attention and Emotional Balance by Jennifer Cohen Harper, MA, E-RCYT.
Article "Loving Guidelines for Showing a Child All That is Possible," by Jennifer Cohen Harper
Frequently Asked Questions
I am flying in for the training. What are my options and what do you recommend?
See our LOCATIONS page for details about travel to the retreat centers and preferred airports. The UCSD Center for Mindfulness will set up a Ride Share Bulletin Board in coordinating shuttle rides for those arriving by air at local airports.
What time should I plan to arrive? When do we finish?
We will begin checking people into the retreat after 1 pm on the first day of the training. However, it may be possible for you to arrive before 1pm and have access to your room. We ask that you plan on arriving no later than 5pm so that we can begin with the full group in attendance at dinnertime. We plan to end the retreat by 1:00 pm on the last day so please plan your travel accordingly, using the time guidelines above. Sometimes situations arise in which people have to leave the retreat earlier than noon on the last day but we strongly urge you to avoid this if at all possible.
Is there wireless service/cellular phone use?
Please do not expect to get consistent, reliable wireless internet service while at the retreat center. It is most advisable to leave your computer at home because of the retreat nature of the training, however we recognize that sometimes computer use is a necessity. Most cellular phones will work in this location. Again, however given the nature of the training there will be limited opportunities to use them, so informing those who may need to contact you of these limitations ahead of time will be helpful.
Is it possible to stay extra nights at the facility or arrive a day or two early?
The retreat center is often booked both right before and right after our training, so arriving early or staying an extra night or two after the retreat is over is not likely to be a possibility. You can of course arrange to stay at lodging near the retreat center if you would like to extend your stay. Contact the retreat center to make such arrangements.
What do I need to bring?
If it is at all possible, please bring a meditation cushion (zafu) and a yoga mat. We will have a few cushions but not enough to go around, so if you have one and can squeeze it into your luggage or bring it as a carry-on please consider doing so. It is always advisable to check the weather forecast prior to traveling, to help guide you in proper clothing choices.
The relatively remote location makes security a minor concern, but we do want people to know that with shared sleeping quarters and very limited availability of keys to lock rooms, we highly recommend leaving valuable items at home to reduce the possibility of anything being lost or stolen. Certainly some of us will have vehicles where such items can be secured if this is necessary.
What should I expect regarding the format of the training?
This training is taught in a retreat format, which means there is a great deal of mindfulness practice embedded in the training, and we want to reiterate that now so you are not surprised when you get here. The venue very much facilitates this format; we will will meet, eat and be housed in a relatively secluded area. There are no other large groups planned in the center that week so it should be relatively quiet and secluded. The rooms are clean and comfortable, but not by any means luxurious. and as you probably noted on the website, you will have a roommate. In most cases several of you will share a dorm-style bathroom nearby.
What should I read prior to arriving?
Check the "Schedule and Required Reading" page of the specific training you are registered to attend.
What if I require some special accommodations or have dietary restrictions?
While you are asked to note specific food restrictions on your registration application, if there are any additional food or medical concerns we should be aware of please let us know of these in advance so we may assist you.
Registration Fees
July 30-August 6, 2017 • EarthRise Retreat Center, Petaluma, CA
$200 "Early-Bird Discount" if you register and pay in full on or before June 30, 2017Early-Bird Rate
On or Before
June 30, 2017
On or After
July 1, 2017
General Registration$1,345$1,545
UC San Diego Faculty / Staff$1,245$1,445
Room and Board Single Occupancy$1,665$1,665
Room and Board Double Occupancy$1,275$1,275
Commuter Fee (includes Meals)$675$675
Registration fee does not include standard room and board charge.
Continuing education credits for participation in this program are available for an additional fee.
MAKE A PAYMENT OR CHANGE YOUR REGISTRATION
Continuing Education Credit Fees 
Continuing education credits for participation in this program are available for an additional fee
 $50
Partial Payments
Partial payments are acceptable; however a non-refundable minimum deposit is due upon registration.
Please be aware that the early-bird rate is available for all participants who register and pay their balance in full by the early-bird deadline (see registration information above). All early-bird rate participants who have a remaining balance on or after the early-bird deadline will have their fees automatically adjusted to the General Session Rate.
All remaining balances must be paid in full 30 days prior to the start of the training or your registration will be cancelled for non-payment and you will not be permitted to attend.
Cancellation Policy
A refund (minus your non-refundable deposit) will be made for cancellations submitted in writing 30 days prior to the training. No refunds will be allowed after that date.
In the unlikely event that the course is cancelled, UC San Diego Center for Mindfulness is responsible only for a full refund of the registration fee and not for transportation, hotel accommodations or any miscellaneous expenses.