Our vision is to encourage young people to explore and deepen an awareness of self through mindfulness training. We teach a curriculum that is designed to support social and emotional learning and cultivate awareness of stress reactivity in children and adolescents. Mindfulness-based practices inspire discernment in decision-making and lead to healthier and happier choices. These experiential programs offer youth, and the families who care for them, an opportunity to discover their capacity for a deeper purpose and more meaningful connection to themselves and the world around them.
Mindfulness is the new ABCs of education: Attention, Balance and Concentration ~ Susan Kaiser-Greenland
Mindfulness for Kids (Ages 9 - 12)

This program is for kids ages 9 - 12. It is an interactive 8-week mindfulness program adapted from Amy Saltzman's A Still Quiet Place, is used to help children manage stress and anxiety in their lives, and develop their natural capacity for emotional resilience, respectful communication and compassionate action. 

A Friend in Me: Self-Compassion for Kids and Parents

This program is for kids ages 7-12. This skill-building program utilizes a combination of age-appropriate exercises - mindfulness, yoga/mindful movement, art, meditation practices, and multimedia - to cultivate kindness, encourage insight, build skills of self-awareness and empathy, and strengthen the capacity for greater emotional regulation and stronger emotional resilience.

Since many families are required to make adjustments to their daily schedule due to these unprecedented times we face, we are choosing to offer this program online for you and your child. This invitation allows for you as a parent to participate and practice the meditations and exercises with your child at home. The program consists of age-appropriate practices for your child, followed by a 30-minute parent session to help you support your child at home.

Mindfulness for Teens (Ages 13-19)

This program is designed for teens aged 13-19. The Mindfulness for Teens program utilizes a combination of age-appropriate exercises, that include yoga, art, meditation practices, and multimedia to encourage insight, self-awareness and strengthen the capacity for self-regulation. Neuroscience research provides strong evidence that these mindfulness practices can alter the structure and function of the brain to improve the quality of life.

 A Mindful Self-Compassion Program for Teens

Adolescence is a time of change and growth. It is the period of life reserved for rebellion and self-discovery, but as the demands in life increase for teens, this time is often fraught with confusion, anxiety, or depression. For many teens, these challenges lead to disconnection and isolation. This course in Mindful Self-Compassion is designed to facilitate awareness, self-kindness, and stronger connections in response to these growing challenges. Through developmentally appropriate activities and carefully crafted practices and meditations, teens have an opportunity to learn how to navigate the emotional ups and downs of life with greater ease. This course creates an opportunity for adolescents to construct a healthier and more equitable worldview and gives rise to greater compassion and empathy toward self and others. In a preliminary research study, this program demonstrated a significant decrease in depression, anxiety, perceived stress, and negative mood. This curriculum was adapted from the adult model of Mindful Self-Compassion created by Kristin Neff and Christopher Germer. 

LEARN MORE ABOUT A MINDFUL SELF-COMPASSION PROGRAM FOR TEENS

Mindfulness & Compassion in Parenting - For Parents of Kids with ASD

Mindfulness & Compassion in Parenting is a 10-week course that combines empirically based practices from Mindful Self Compassion (MSC) and Mindfulness Based Stress Reduction (MBSR), along with research that supports caregiver and family wellbeing. Adapted specifically for caregivers of children with neurodiverse needs, recent research conducted in collaboration with the Autism and Developmental Disabilities Lab at Simon Fraser University demonstrated significant improvements in participants' mindfulness, self-compassion, mental health, family quality of life, parental connections with children and skills to cope with stress.

One-Day Retreat for Teens 

How Can Mindfulness Help Teens Reach Their Potential?

Neuroscience research reveals that the parts of the brain responsible for learning, concentration, self-regulation, and compassion can improve by learning to pay attention on purpose to our inner and outer experience each day. By exercising our awareness muscle, we can literally change areas of the brain responsible for stress, worry, and anxiety. A crucial skill in managing our stress effectively is to be able to deal with change whenever it occurs. What we know is that Mindfulness training can reliably and profoundly alter the structure and function of the brain to improve the quality of both thought and feeling.

Mindfulness in Schools

The Mindful Schools Project is designed to offer a foundation of mindfulness and self-compassion training to faculty and staff from k-12. These workshops/intensives and courses are intended to teach the value and benefits of mindfulness and self-compassion for teachers as they serve in their capacity to meet the emotional and educational needs of their students.

If interested in any of these services inquire with Renee Lewis: (858) 249-6894
"In the beginner's mind there are many possibilities; in the expert's mind there are few"~ Roshi Shunryu Suzuki
Contact Info
Lorraine M. Hobbs, MA
Founding Director, Youth, Family & Education Programs
UCSD Center for Mindfulness
jalhobbs@yahoo.com
619-301-8782
Renee Lewis
Acting Director, Youth, Family & Education Programs
UCSD Center for Mindfulness
r1lewis@health.ucsd.edu
858-249-6894
Recommended Book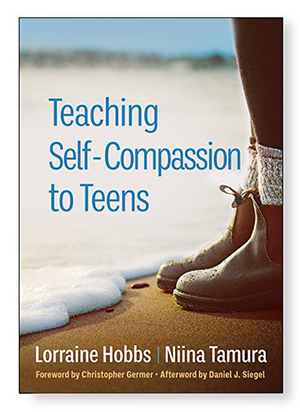 Grounded in knowledge about the unique developmental challenges of adolescence, this book presents an innovative approach for teaching self-compassion to teens and young adults in clinical, educational, or community settings. Lorraine Hobbs and Niina Tamura provide guided practices, creative exercises, and teaching strategies adapted from Kristin Neff and Christopher Germer's widely disseminated Mindful Self-Compassion program for adults. Case examples, sample dialogues, and scripts illustrate how to set up and run successful groups that address teen concerns such as self-criticism, self-esteem, social comparison, and strong emotions. The book offers guidelines for cultivating a personal practice and working with parents. Tips for providing a safe, effective learning environment are woven throughout; a special chapter covers trauma-sensitive teaching.