In today's world, teens and pre-teens are under more pressure and experiencing higher levels of stress than ever before. Increasing demand in technology, academic preparation, and life transitions often result in physical and emotional stressors, such as: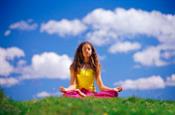 Irritability
Anxiety
Depression
These stressors can affect your child's well-being and happiness. A crucial skill in managing stress effectively is to be able to deal with change whenever it occurs. 
In This Course Students Will Learn To:
Sharpen their ability to focus and pay attention
Experience life situations with less emotional reactivity
Learn effective strategies for making better choices
Increase kindness and compassion for themselves and others
Learn skills for self-care
The Practice
Gentle stretching and yoga
Mindful meditation practice to encourage relaxation and awareness
Self-reflection through journaling, activities, and group discussion
Cancellation and Policy
Participants who withdraw prior to the 2nd class will receive a full refund minus $50 for the course materials and registration fee. There is no refund after the 2nd class.