Our nutrition services combine medical nutrition therapy with integrative and functional medicine principles through counseling, education, personalized recommendations and whole-person therapies. 
Areas of expertise include use of a wholesome, plant-based diet to introduce therapeutic foods and recipes, enhance diet choices for digestion and whole-body support, revision of food choices to meet condition-specific recommendations, support restorative movement, layer with lifestyle modifications, and provide evidence for further assessments.
At CIN our dietitians and physicians focus on stages of health including preventive, treatment, remission and maintenance to optimize health for individuals, the community and the planet. Patients with the following conditions, symptoms or diseases are often seen by our team:
Women's health including fertility, pregnancy, post-partum care, PCOS, endometriosis

High body weight or post-surgical weight management support

Low body weight, malnutrition and eating disorders

Type 1 and 2 diabetes 

Chronic kidney disease

Hypertension or high blood pressure

Gastrointestinal symptoms, illness, disorders and symptoms

Intestinal dysbiosis, IBS, IBD, GERD, functional gut disorders, malabsorption

Nutrient optimization

Before or after surgical interventions in various settings

Screening for vitamin and mineral deficiencies

Hormone imbalances and disorders including thyroid disorders 

Food intolerances and allergies 

Cardiovascular disease 

Autoimmune and inflammatory conditions 

Mitochondrial dysfunction disorders 

Cancer 

Mood or memory disorders

Advanced athletic/fitness training
Additional services include nutrient analysis, lab recommendations and interpretation, functional nutrition testing, physical assessment, screening for food and drug interactions (including supplement), functional foods, overview and recommendations for use of nutrition supplements, and collaboration of care with your healthcare team.
Integrative nutrition services are most often a referral-based appointment made in conjunction with a physician or nurse practitioner on your care team. New patient appointments may be scheduled by calling 858-249-6890 or toll-free 844-747-0474. Return patients may schedule through MyChart or via telephone.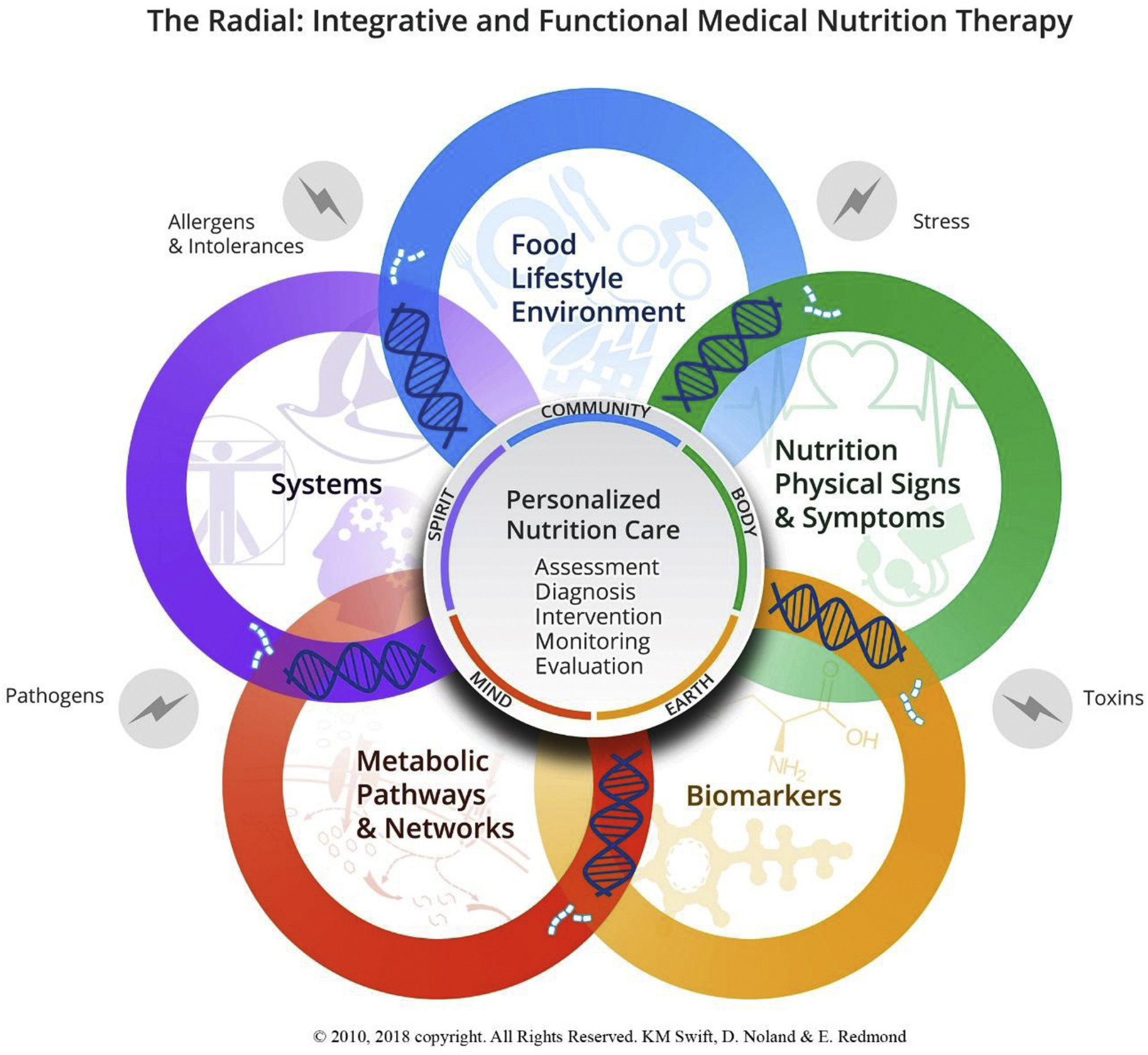 Initial Appointment

At an initial visit, patients are asked to complete a 3-day food record and medication + supplement list prior to their appointment. An example of this form may be found here, and will be sent to you via mychart.

Approximately 60-minute therapeutic encounter.
Information collection is multi-factorial for in-depth understanding and assessment.
Discussions include: exploring your story and personal health goals, reviewing recent food logs (meals, snacks, beverages), inquiring about medical, family, social and wellness history, addressing any gastrointestinal or other ongoing symptoms, learning more about your physical activity through discussion and physical assessment, addressing medication and supplements regimens, and collection anthropometric data.
Patients will be provided with evidenced-based education and recommendations to address any hidden gaps in knowledge, build trust, encourage change behavior, shape self-efficacy and of course, answer and questions.
Patients should be prepared for collaborative goal-building that involves a whole-body, whole-life approach 
Recommendations will be made to referring medical provider (testing, i.e. vit D lab or sleep study).
Follow-up appointment and lab or other testing instructions are provided at the end of the appointment.

Follow-Up Appointment

Approximately 60-minute therapeutic encounter.
Emphasis of treatment remains focused on deepening the therapeutic encounter.
As results and symptoms change (or not), these appointments focus on reviewing lab or test results, new symptoms, changes, questions, other medical appointments or findings, updates to medication or supplement regimen, 24-hour dietary recall, weight changes, current gastrointestinal function, and any other questions or topics revealed during the appointment.
Continued education is provided to continue the goal of elevating wellness.
Patients are encouraged to participate in collaborative goal-building that involves a whole-body, whole-life approach.
Further recommendations, when appropriate, are shared with the referring medical team.
At the end of the appointment, follow-up appointments and lab or other testing instructions are provided to patient and the referring care team.
Learn more about telehealth video visits at UC San Diego Health.