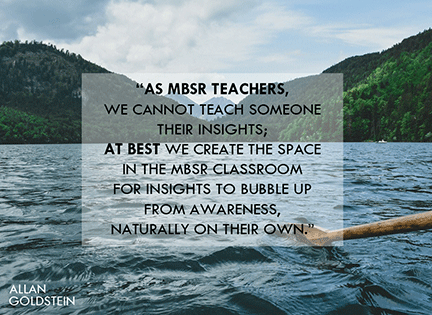 For participants interested in teaching MBSR, the 5-Day Residential Intensive, Navigating Life's Challenges will be continued by participating in four additional days of MBSR Teacher Training Practicum Intensive. We will explore Themes, Rationales, Intentions, and Practice Skills (Susan Woods, 2012) that form the foundations of teaching an MBSR program, and how our ability to present them with integrity is interwoven in with our becoming a competent MBSR teacher. These sessions will be made up of experiential and didactic dialogues that embody the attitudinal foundations of MBSR that we bring as teachers into the MBSR classroom. This is a unique opportunity to participate in an intensive MBSR Practicum Teacher Training experience to fully explore and train in becoming an MBSR teacher. Participating in this MBSR Teacher Training Practicum Intensive will be considered equivalent to having taken the 6-Day MBSR Teacher Training Intensive (Step 2 of the MBSR Teacher Qualification & Certification program).
Objectives
Articulate an understanding of the foundational principles of the MBSR program
Demonstrate the basic MBSR teaching skills
Describe the central role of mindfulness meditation practice for general wellness and self-care in the regulation of emotions and behaviors
Articulate the rationale for a teacher's ongoing mindfulness meditation practice in teaching MBSR
Discuss and outline formal and informal meditative practices and mindfulness as a mode of being in daily life.
Guidelines 
Advanced degree or equivalent experience and training, or clinicians in training
Participation in an 8-week MBSR program (May be a live online MBSR taught by certified teachers if there are no in-person MBSR program is available in your area.)
Experience facilitating group process
Personal daily meditation practice and/or a movement practice (yoga, qigong, tai chi)
For more information, please contact Allan Goldstein.
Continuing Education Credit
Psychologists: This program is sponsored by UC San Diego Center for Mindfulness. The UC San Diego Center for Mindfulness is approved by the American Psychological Association to sponsor continuing education for psychologists. The UC San Diego Center for Mindfulness maintains responsibility for this program and its content. This course offers 27.0 CE credit.
California licensed MFTs, LPCCs, LEPs, LCSWs: This program is sponsored by UC San Diego Center for Mindfulness. The UC San Diego Center for Mindfulness is approved by the American Psychological Association to sponsor continuing education for psychologists. The UC San Diego Center for Mindfulness maintains responsibility for this program and its content. 27.0 CE credit may be applied to your license renewal through the California Board of Behavioral Sciences. For those licensed outside California, please check with your local licensing board to determine if CE credit is accepted.
Nurses: UC San Diego Center for Mindfulness is approved by the California Board of Registered Nursing, Provider Number CEP16351, for 32.0 contact hours.
Cultural and Linguistic Competency Statement
This activity is in compliance with California Assembly Bill 1195 which requires continuing medical education activities with patient care components to include curriculum in the subjects of cultural and linguistic competency. Cultural competency is defined as a set of integrated attitudes, knowledge, and skills that enables health care professionals or organizations to care effectively for patients from diverse cultures, groups, and communities. Linguistic competency is defined as the ability of a physician or surgeon to provide patients who do not speak English or who have limited ability to speak English, direct communication in the patient's primary language. Cultural and linguistic competency was incorporated into the planning of this activity. Additional resources can be found on the UC San Diego CME website.
Disclosure
It is the policy of the University of California, San Diego Center for Mindfulness to ensure balance, independence, objectivity and scientific rigor. All persons involved in the selection, development and presentation of content are required to disclose any real or apparent conflicts of interest. All conflicts of interest will be resolved prior to an educational activity being delivered to learners through one of the following mechanisms: 1) altering the financial relationship with the commercial interest, 2) altering the individual's control over CE content about the products or services of the commercial interest, and/or 3) validating the activity content through independent peer review.
Tentative Schedule for 9-day Practicum
5-day NLC
Day 1
Registration: 1:00 to 5:00 pm
Dinner: 5:30-6:30 pm
First Session: 6:45-8:45 pm
Day 2-5
Morning Session: 9:00 am-12:30 pm
Afternoon Session: 2:00 pm-5:30 pm
Day 6
Session Ends: 12:00 noon
Practicum
Day 1
Registration: 8:00 am-9:00 am
First Session: 9:00 am-6:30 pm
Day 2-Day 3
8:30 am – 6:30 pm
Day 4
8:30 am-11:30 am
Recommended Reading
Full Catastrophe Living: Using the Wisdom of your Body and Mind to Face Stress, Pain and Illness; By Jon Kabat Zinn
Heal Thy Self: Lessons on Mindfulness in Medicine; By Saki Santorelli
Teaching Mindfulness; Donald McCown, Diane Reibel and Marc S. Micozzi
Frequently Asked Questions
I am flying in for the training. What are my options and what do you recommend?

For the training in San Diego, here is a list of a few hotels near the Center. You can also search on this link (select "Lodging Near UC San Diego Thornton Hospital") or search a hotel elsewhere in San Diego as well. (Please note we do not have any special hotel discount arrangement with any of the hotels listed below or on the link above.)

Best Western Golden Triangle Inn
5550 Clairemont Mesa Blvd, San Diego, CA 92117
book.bestwestern.com
(858) 560-4551

California Suites Hotel
5415 Clairemont Mesa Blvd, San Diego, CA 92117
californiasuiteshotel.com
(858) 560-0545

Residence Inn San Diego Central
5400 Kearny Mesa Rd, San Diego, CA 92111
marriott.com
(858) 278-2100

What time should I plan to arrive? When do we finish?

We will begin checking people in at the retreat center after 3 pm on the first day of the training. We plan to end the training by 12 pm on the last day so please plan your travel accordingly, using the time guidelines above. Sometimes situations arise in which people have to leave the training earlier than noon on the last day but we strongly urge you to avoid this if at all possible.

What do I need to bring?

If it is at all possible, please bring a meditation cushion (zafu) and a yoga mat. We will have a few cushions but not enough to go around, so if you have one and can squeeze it into your luggage or bring it as a carry-on please consider doing so. It is always advisable to check the weather forecast prior to traveling, to help guide you in proper clothing choices.

What should I expect regarding the format of the training?

This training is taught in an intensive experiential format, which means there is a great deal of mindfulness practice embedded in the training, and we want to reiterate that now so you are not surprised when you get here.

What should I read prior to arriving?

Check the "Required Reading" section to find a list of books you should read prior to the training.

What if I require some special accommodations or have dietary restrictions?

While you are asked to note specific food restrictions on your registration application, if there are any additional food or medical concerns we should be aware of please let us know of these in advance so we may assist you.
Continuing Education Credit Fees
Continuing education credits for participation in this program are available for an additional fee
Psychologists, Psychotherapists (LCSW, MFT, LPC)        $75
Partial Payments
Partial payments are acceptable; however a non-refundable minimum deposit of $300 USD is due upon registration.
Please be aware that the early-bird rate is available for all participants who register and pay their balance in full by the Early-Bird Deadline. All early-bird rate participants who have a remaining balance after that date will have their fees automatically adjusted to the General Session Rate.
All remaining balances must be paid in full 30 days prior to the start of the training or your registration will be cancelled for non-payment and you will not be permitted to attend.
Application Form
During the registration process, you will be required to fill out an online application form. Should your qualifications not be accepted for admittance, a full refund will be granted.
Cancellation Policy
A refund (minus your $300 non-refundable and non-transferable deposit) will be made for cancellations submitted in writing on or before a date 30 days prior to the start of the training. No refunds will be allowed after this date.
In the unlikely event that the course is cancelled, UC San Diego Center for Mindfulness is responsible only for a full refund of the registration fee and not for transportation, hotel accommodations or any miscellaneous expenses.